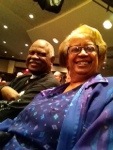 Upon planning for my in-laws 50th Wedding Anniversary, my husbands mother began having some health issues earlier this spring. As time progressed, her memory suddenly worsened. It brought us to an unexpected point of immediately taking both parents in with hopes of reversing a mild diagnose of Dementia and Alzheimer's for his mother.
Although it has only been a little over a month, we have found ourselves in the position of possibly taking them in permanently. She has definitely improved in her health, but along the way, other health circumstances arose – from having a cast put on to a pretty serious surgery to take place, not to mention their overall health in general to be looked after.
Which brings us to a new unexpected season of life in care taking. We have surely had some great laughs along the way, and have added several new stories to our memories thus far. Although it seems like it's been longer, I know this is only the beginning of more stories to come.