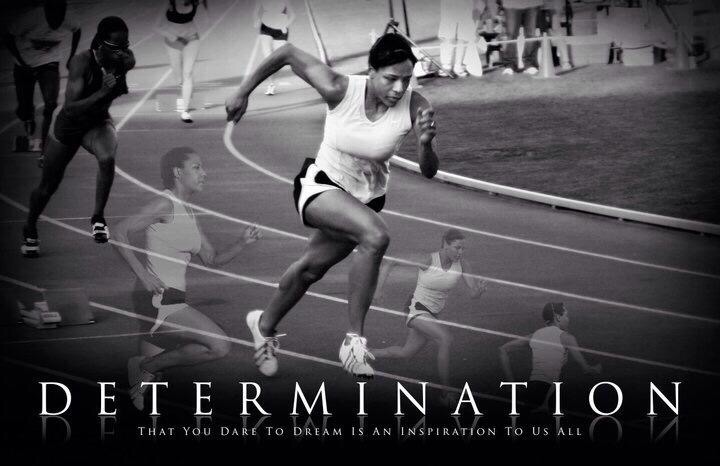 Determination…a word of action needed to get through life…
I have been through many circumstances in life; as a child, a teenager, and many more experiences in my adult life. Recently, as I was out running, I had to push myself to keep going. It reminded me of this photo. This was a time about 8 years ago when I was training for the open 400m race. I was actually trying to make the upcoming Olympics. Although, my time was close to tryout times, I needed to knock off several more seconds. Anyway, as I thought back to this time in my life during my now getting back in shape jog, I kept running to finish my last mile. I then thought to myself how being determined is sometimes what gets you through things in life; it's what got me through the last year of my life for sure. Unfortunately, in the past few years of my life, I've had at least a few circumstances that I needed to dig my way through. I was determined to be a better mom, a better wife, determined to not only make it through cancer and chemotherapy, but to come out on the other end in better shape than I was before; healthier, physically and mentally stronger and more spiritually fit. That is where I am now; getting back in to shape, constantly trying to cut certain foods out of my diet (a work in progress 😉 ), and my oh my, what God has shown me about Him – that will be in another blog!
Subsequently, in the midst of wanting to be done with this workout, it came to me that choosing determination is what I've had to decide within me over the more recent course of my life. If I choose to be determined no matter how much I hurt, no matter how tired I am, no matter what others say, then I can keep going. If I choose to be determined, even if I don't know what the next step is, I know God will work it out for me. Sometimes, I just need to commit, bringing me to see the next step as I get closer to it. I ask God to help sustain me, show me how to get through, and to show me what's next; humbly admitting I don't know what else to do.
So here I am, determined…to do life…to be happy…to love…but most importantly, to keep learning and leaning on my God.